Home
Talk

117
2,486pages on
this wiki
| | |
| --- | --- |
| | |
What's New
Say hello to our newest admin, Mabel.
Captain Sparklez, or should I say, Mike, an admin on this wiki would like to hear your ideas for changes on the wiki! Comment on his blog if you would like anything to be implemented to this wiki! You can find it here!
New features to the wiki are being discussed, don't forget to have your say! Express your ideas to help the wiki!
New ideas, fresh blood and overall a wiki overhaul! [1]
A new month means a new blog! Find out what's to come in the 2013 year![2]
Featured Camper
The featured camper for February was, Stars. Stars will always be one of the first to sign up for any camp, but their ambition doesn't stop there! No, Stars is also well-known for their characters, such as Hanah... And don't get me started on their popular camp series! Congratulations!
The featured camper for March is, Mike for being a popular and very active user! Known for his zaney characters, and his famous one-shot lines. Usually you'll see this user playing as Mike... Not sure if that's ironic or not, aha! Congratulations!
Want to be the Featured Camper? You can! Vote for June's Featured Camper immediately!
Featured Camp of the Month
The featured camp for February was, Total Drama: Battle of the Elements. The first camp, of hopefully many! Pitting 14 unique elements in a race to be the best. Not one element has the upper hand, but how they each use their creative abilities is up to. Go check it out, and just maybe it will inspire you! The camp was hosted by Myed
The featured camp for March is, Total Drama After The Island. A series that takes 22 contestants, no matter how bizarre they are and puts them on the renowned island, only one can win though! Go check out this whole new level of crazy, create by, MRace
Want to have your camp featured on the front page? Do so here! Vote for June's Featured Camps!
Anybody Is Welcomed!
Want to talk to some users here? Come to the wiki's official Chatango
All users are welcome! Have fun, meet new people, compete in camps, roleplays, and do so much more!
About
The wiki where you can create Total Drama camps that anyone can join and compete!
Our users have made 2,486 camps since January 2009!
---
Hot Camps!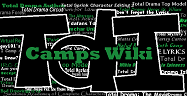 ---
Total Drama Island Camp Wiki Camp
Celebrate the Third Anniversary of the Wiki!
---
Featured Quote
---
Featured Character
---
Camp Creator
To write a new camp, just enter the camp title in the box below.
---
Wiki Poll
What's Your Favorite Video Game Genre?
---