| | |
| --- | --- |
| | |
If you're looking for some new camps with open spots to join visit this category to find one
If instead you're looking for a camp that already started visit this category to find one
What's New
Come check out some of the great camps above and come to the chat to talk to some great campers, Total Drama Style!
The design of this website has been updated in order to be Christmas-themed. Holidays are close and are getting closer!
Voice your opinions! Go and vote in the poll!
All features will be going on a two-month break unless we step it up in activity, guys- so let's step it up, and bring back our beloved featured system!
Featured Camper
There were no applicants for the month of December '14
Want to be the Featured Camper? You can! Vote for October's Featured Camper immediately.
Featured Camp of the Month
There were no applicants for the month of December '14
Previous FC
The Featured Camp from September is The camp without a good name. A camp created by WinstonMacdonald, Contestants competed week to week in challenges in order to stay out of the bottom 3. The Bottom 3 then competed in another challenge to stay out of the bottom 2 where one of them was voted out. In the end ACTN nudged out Wes in the F2 vote to take the title of this great camp.
Want to have your camp featured on the front page? Do so here! Vote for March's Featured Camp.
Anybody Is Welcomed!
Want to talk to some users here? Come to the wiki's official Chatango or Come to the wiki's official chat
All users are welcome! Have fun, meet new people, compete in camps, roleplays, and do so much more!
About
The wiki where you can create Total Drama camps that anyone can join and compete!
Our users have made 446 camps since January 2009!
Hot Camps!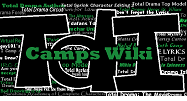 ---
Destiny
After the Rating Game, Chris decides to host a new reality show with 18 contestants and the prize of 250.000 dollars
---
Total Drama: All Stars vs. Underdogs 9
In one of the most popular camps, all stars will compete against underdogs once more, brought to you by AlejandroCodyTylerNoah.
Featured Quote
The Featured Quote from September is
No kidding, Chris, but you know why? Because my whole team is full of incompetent freaks! First of all, Laney is hardly trustworthy and is only okay in challenges, Leo. Leo, you're actually really dumb. You aren't even a villain! You think you have control of the game? You don't. Laney does. Drown. Next, Heather, you don't even deserve to be here (screw you actn if you thought we needed "help". This is barely help). Jump off a cliff, losers. Lastly, Saionji. I have had to deal with you for three seasons straight, and I swear to god that you are the last person I want to see. Get over your dumb, whiny self before you get eliminated. By the way, Laney is planning to backstab you now that she has Heather and Leo. JUST SAYING. Oh, yeah, forgot about Max. You're weird. Get help. And I know you losers won't listen to this, so have fun getting wiped out. :)
– Dyrek
Want to nominate a Quote? Do so here!
Featured Character

<center>There were no applicants for the month of December '14
Previous FC
The Featured Character for October is Cassidy. Cassidy is a nice humble girl who is shy soft spoken but Who wants another Zoey. Kassidy was an obvious choice to add instead of Kassidy being summoned by "Anne Maria coming" or "Zoey needing help". She actually portrays it naturally sure she hided it at first but she knew it was a part of her however in the finale Kassidy and Cassidy split apart because Kassidy is a demon so yeah she had a relationship with ryan eliminated ryan acted like peck killed her and pin it on mariah and they both were eliminated and cassidy ended 1st place against lizzie so yeah.
Want to nominate a Character? Do so here!
Camp Creator
To write a new camp, just enter the camp title in the box below.
Wiki Poll
Who would you rather be friends with?
---