| | |
| --- | --- |
| | |
What's New
Come check out some of the great camps above and come to the chat to talk to some great campers, Total Drama Style!
Featured Camper
The Featured Camper from September is Loenev. She is a very friendly user and everyone should get to know her. Also known for doing great in camps such as ASVU, she is very competitive. Also very active in the community plus her great OC's have given her the win. Great Job Loenev!!!
Want to be the Featured Camper? You can! Vote for October's Featured Camper immediately.
Featured Camp of the Month
The Featured Camp from September is The camp without a good name. A camp created by WinstonMacdonald, Contestants competed week to week in challenges in order to stay out of the bottom 3. The Bottom 3 then competed in another challenge to stay out of the bottom 2 where one of them was voted out. In the end ACTN nudged out Wes in the F2 vote to take the title of this great camp.
Want to have your camp featured on the front page? Do so here! Vote for October's Featured Camp.
Anybody Is Welcomed!
Want to talk to some users here? Come to the wiki's official Chatango or Come to the wiki's official chat
All users are welcome! Have fun, meet new people, compete in camps, roleplays, and do so much more!
About
The wiki where you can create Total Drama camps that anyone can join and compete!
Our users have made 524 camps since January 2009!
Hot Camps!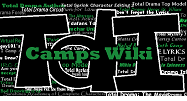 ---
Dangan Ronpa
A bear telling teens to kill each other,this is that horror camp. Watch as ten teenagers survive in a school while fighting for their lives!
---
Total Drama: All Stars vs. Underdogs 8
In one of the most popular camps, all stars will compete against underdogs once more, brought to you by AlejandroCodyTylerNoah.
Featured Quote
The Featured Quote from September is is Mario: (CONF) jeez, Toad's miserable this time around, maybe he's had to many mushrooms, hahaha!, get it?, get it everyone?, cause he's a mushroom!, and he's...forget it,. Toad: *in confessional with Mario* Yeah, but I still hate you! *sniffs more mushrooms* Ahhhhh! Yeah that's the stuff! (CON ENDS)
Want to nominate a Quote? Do so here!
Featured Character
The Featured Character from September is Cassidy. Cassidy is a nice humble girl who is shy soft spoken but Who wants another Zoey. Kassidy was an obvious choice to add instead of Kassidy being summoned by "Anne Maria coming" or "Zoey needing help". She actually portrays it naturally sure she hided it at first but she knew it was a part of her however in the finale Kassidy and Cassidy split apart because Kassidy is a demon so yeah she had a relationship with ryan eliminated ryan acted like peck killed her and pin it on mariah and they both were eliminated and cassidy ended 1st place against lizzie so yeah.
Want to nominate a Character? Do so here!
Camp Creator
To write a new camp, just enter the camp title in the box below.
Wiki Poll
<center>
Who is the best animatronic from Five Nights at Freddy's?
---