| | |
| --- | --- |
| | |
What's New
Check out our April edition of the wiki wide newsletter, here! Interviews, reviews, and updates on the wiki are there, so don't forget to check it out.
Phyneo has impressed the admins with his work rate and is now a Chat Moderator! Congrats Phyneo!
Featured Camper
The Featured Camper for April is TrentFan. TrentFan, going by as TF, has been on the wiki for a few years, and has been quite the modest help. He's fun to talk to, popular, slightly irritating, but a great person on the wiki, which is why he is an admin.
Want to be the Featured Camper? You can! Vote for May's Featured Camper immediately.
Featured Camp of the Month
The Featured Camp for April is Nano's Treasure Adventure: Secret Ruins! A unique and interesting camp, Nano brings sixteen contestants to secret ruins, in order to obtain the Sapphire Gem. It's quite popular, for it's cast, challenges, and very interesting premise, and also has a sequel!
Want to have your camp featured on the front page? Do so here! Vote for May's Featured Camp.
Anybody Is Welcomed!
Want to talk to some users here? Come to the wiki's official Chatango
All users are welcome! Have fun, meet new people, compete in camps, roleplays, and do so much more!
About
The wiki where you can create Total Drama camps that anyone can join and compete!
Our users have made 471 camps since January 2009!
Hot Camps!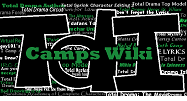 ---
Nano's Treasure Adventure: Jungle Trip
The second season of Nano's Treasure Adventure is here!
---
Featured Quote
*Runs in* Time to get me some hamburgers! Yay! *Notices Owari and stops abruptly* Ah! No! I came in here for hamburgers! And I see this! Why has someone else killed!? Why!?*
– Twogami
Want to nominate a Quote? Do so here!
Featured Character
The Featured Character for April is Dusk, played by DerpyandDawn. A very popular character, she is nice and interesting, appearing in various camps, such as Big Family 10: Coaches.
Want to nominate a Character? Do so here!
Camp Creator
To write a new camp, just enter the camp title in the box below.
Wiki Poll
Who should have Lightning taken to the final two?
---