| | |
| --- | --- |
| | |
What's New
Check out our first edition of the wiki wide newsletter, here! Interviews, reviews, and updates on the wiki are there, so definitely read it!
Phyneo has impressed the admins with his work rate and is now a Chat Moderator! Congrats Phyneo!
Featured Camper
The Featured Camper for March is Phyneo. Phyneo has been a great user on our wiki since 2010. He has been a great friend to many over the years and also a great contributor to the wiki. He is also one of our chat mods in which he has helped out a lot. Finally Phyneo is an awesome person, so congrats Phyneo!
Want to be the Featured Camper? You can! Vote for April's Featured Camper immediately.
Featured Camp of the Month
The Featured Camp for March is Total drama World tour(teamnoah's way), a camp by Teamnoah123. This camp was the third in the series. If you want to see drama in a camp this is the place to go. Constant fighting, fantastic challenges and great blindsides all made this camp the Featured Camp it is now.
Want to have your camp featured on the front page? Do so here! Vote for April's Featured Camp.
Anybody Is Welcomed!
Want to talk to some users here? Come to the wiki's official Chatango
All users are welcome! Have fun, meet new people, compete in camps, roleplays, and do so much more!
About
The wiki where you can create Total Drama camps that anyone can join and compete!
Our users have made 486 camps since January 2009!
Hot Camps!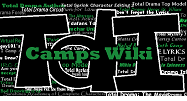 ---
The Cartoon Battle: Return to Mayhem
The second season of TCB is here!
---
Featured Quote
...I love how the debutters leave the episode after their debut. That's ironic. Oh well, adios Elle! *blows her up*
– Chris
Want to nominate a Quote? Do so here!
Featured Character
The Featured Character for March is Azuna, a character played by Soundandimage. Eventhough she has never won she has been a very memorable chrecter in all the camps she has competed in. She ended 3rd in Total drama after the Tour and 6th in total drama Hotel. And is currently in the top 6 of Total drama after the island again.
Want to nominate a Character? Do so here!
Camp Creator
To write a new camp, just enter the camp title in the box below.
Wiki Poll
Who Really Won Total Drama World Tour?
---