| | |
| --- | --- |
| | |
What's New
Check out our April edition of the wiki wide newsletter, here! Interviews, reviews, and updates on the wiki are there, so don't forget to check it out.
Featured Camper
The Featured Camper for May is AlejandroCodyTylerNoah. Being known for his extremely successful series "Total Drama: All-Stars vs. Underdogs", ACTN is one of the most friendly and reliable people in the wikia. He also visits chat alot and is participant in various camps, making him one of the most active people in the community
Want to be the Featured Camper? You can! Vote for June's Featured Camper immediately.
Featured Camp of the Month
The Featured Camp for May is Total Drama Hotel. 20 contestants, varying from normal to extremely weird, compete against eachother for the million dollar prize in a luxurious hotel. Full of risky challenges, shocking eliminations, unexpected cameos and comic moments, this camp is surely one of the most memorable of this wikia.
Want to have your camp featured on the front page? Do so here! Vote for June's Featured Camp.
Anybody Is Welcomed!
Want to talk to some users here? Come to the wiki's official Chatango
All users are welcome! Have fun, meet new people, compete in camps, roleplays, and do so much more!
About
The wiki where you can create Total Drama camps that anyone can join and compete!
Our users have made 582 camps since January 2009!
Hot Camps!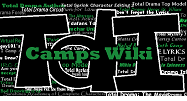 ---
Stranded
The newest series by Sunsummer7 is a horror camp. Watch as ten teenagers survive on an island while fighting for their lives!
---
Total Drama: All Stars vs. Underdogs 7
In one of the most popular camps, all stars will compete against underdogs once more, brought to you by AlejandroCodyTylerNoah.
Featured Quote
Thanks! But money isnt everything. But love is the thing what people need in the world. Im going to my million dollars. Geoff, Family, friends etc. *smiles*
– Bridgette
Want to nominate a Quote? Do so here!
Featured Character
The Featured Character for May is Robin. In general he's a friendly smoking addict that despises whoever minds about him smoking. He developed a relationship with Azuna in Total Drama Hotel and it continued in Total Drama After The Island (Again) where things went....too far. He is also friends with Lily and Daniel and he managed to get far in his camps
Want to nominate a Character? Do so here!
Camp Creator
To write a new camp, just enter the camp title in the box below.
Wiki Poll
<center>
Which pair are your favorite finalists in Total Drama history?
---