| | |
| --- | --- |
| | |
What's New
Check out our April edition of the wiki wide newsletter, here! Interviews, reviews, and updates on the wiki are there, so don't forget to check it out.
Featured Camper
The Featured Camper for May is Conker511. With his 6300+ edits and age of almost 1 year, Conker is one of our most active users. This is also proved by his costant partecipation on various camps and the set of characters he's made, just like Harry.
Want to be the Featured Camper? You can! Vote for June's Featured Camper immediately.
Featured Camp of the Month
The Featured Camp for May is Total Drama: All Stars vs. Underdogs 4. The ultimate battle got place for the fourth time in a row! This time the characters of the original Total Drama canon fight 19 fully new contestants, ready to make the other 19 veterans' life pure HELL! A very long camp consisting of a great 28 episodes, an elimination for each one and the big ol' grand prize of 1 million dollars!
Want to have your camp featured on the front page? Do so here! Vote for June's Featured Camp.
Anybody Is Welcomed!
Want to talk to some users here? Come to the wiki's official Chatango
All users are welcome! Have fun, meet new people, compete in camps, roleplays, and do so much more!
About
The wiki where you can create Total Drama camps that anyone can join and compete!
Our users have made 526 camps since January 2009!
Hot Camps!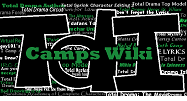 ---
Nano's Treasure Adventure: Jungle Trip
The second season of Nano's Treasure Adventure is here!
---
Featured Quote
*listens to Brent's Conessional*.......................................................Brent WTF who the f*** are you? (CONF) Sorry I know that was really mean but it all makes sense......sorry (END CONF) WHO THE F*** ARE YOU?! YOUR JUDGEING ME AND DENVER FOR BEING EVIL WHEN YOUR NOT EVEN NICE YOU ACT LIKE YOUR THE NICEST PERSON ON THE SHOW WHEN YOUR NOT STOP JUDGEING US WE DIDN'T DO ANYTHING TO YOU SO SHUT UP I'M SICK AND TIRED OF YOU TELLING US THAT WE ARE EVIL I HAVE A CONDITION THAT MAKES ME THIS WAY *cries* STOP BEING SO INSENSITIVE!
– Cassidy
Want to nominate a Quote? Do so here!
Featured Character
The Featured Character for May is Lara. She was a good girl after she met her biggest enemie azuna,now she is grumpy with everybody, she is trying to be the good girl that she was, she had her first apparence in total drama after the action and she got 3rd because she asked for be eliminated,she can be a threat sometime because she loves winning.
Want to nominate a Character? Do so here!
Camp Creator
To write a new camp, just enter the camp title in the box below.
Wiki Poll
Which Total Drama: Pahkitew Island "evil villain" is your favorite?
---